Baroness Deech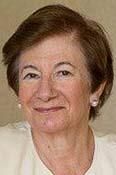 Ruth studied and taught law at Oxford University, was called to the Bar, and was Principal of St Anne's College from 1991-2004.  She studied for an M.A. in Contemporary Jewish Studies at Brandeis University.  From 1994 to 2002 she was chairman of the Human Fertilisation and Embryology Authority, monitoring all IVF clinics and embryo research in the UK.  During her tenure, stem cell research was legalised.  She was appointed DBE in recognition of that work. From 2002 to 2006 she was a Governor of the BBC.  From 2004-2008 she was the first Independent Adjudicator for Higher Education, the national campus ombudsman.  From 2008 to 2012 she was the Gresham Professor of Law, lecturing in the City of London on family and regulation law.  In 2009 she chaired a national committee reporting on Women Doctors – Making a Difference, looking at equal opportunities for women in medicine. From 2009-14 Ruth was chairman of the Bar Standards Board, regulating the conduct and education of barristers. She is an honorary Bencher of the Inner Temple.
Ruth is currently a patron of the Community Security Trust, and a trustee of the Roth Institute for the Study of Antisemitism at Tel Aviv University.  She chairs the Stuart Young academic panel, which awards bursaries to Jewish students. She is a member of the All Party Britain-Israel Parliamentary Group, and of the International Council of the American Jewish Joint Distribution Committee.
In the past Ruth has been a trustee of the Rhodes Scholarships, and a governor of Carmel College.  She was a member of the Jewish Leadership Council, a trustee of the JNF and the Coexistence Trust.  She was Lionel Cohen lecturer (on reproductive medicine) at the Hebrew University in 2006. She was a patron of the Oxford University Jewish Society, was a Governor of UJIA and of the Oxford Centre for Hebrew and Jewish Studies, and a member of the Commission on the Representation of British Jewry 1998.  In 2002 she was Jewish Care Woman of Distinction.
In 2005 she was created a life peer and sits in the House of Lords as a crossbencher.  She chaired the Select Committee on Equality & Disability.