Prof Maralyn Druce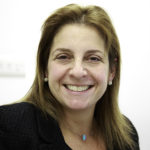 Professor Maralyn Druce is Professor of Endocrine Medicine and Consultant Physician and Endocrinologist at Barts Health NHS Trust.
Maralyn undertook undergraduate training at Christ's College, Cambridge University and completed her clinical training at University College and Middlesex School of Medicine in 1994. She completed her higher medical training in Diabetes, Endocrinology and General Internal Medicine at the Hammersmith Hospital and Barts Hospital. She was awarded a Wellcome Trust clinical research training fellowship and obtained a PhD in physiology in Professor Steve Bloom's laboratory in Imperial College, focusing on gut hormones and their role in the peripheral and central control of energy homeostasis.
Maralyn went on to be awarded the Chadburn Lectureship at Barts and the London School of Medicine and has remained there since then. She has a keen interest in teaching and completed her Masters in Medical Education (Dundee) in 2016. Her current QMUL roles include Deputy Dean for Education (Postgraduate Taught Programmes) and Head of Governance for the Undergraduate MBBS and Dental programmes at Barts and the London. She is also Associate Dean for Undergraduates at the St Bartholomew's Hospital site.
She holds a number of external roles including Chair of the Society for Endocrinology Public Engagement Committee, Chair of the Education and Training Committee for UKINETs, member of the exam board for the Royal College of Physicians Diabetes and Endocrinology exam and Editor in Chief of Endocrinology, Diabetes and Metabolism Case Reports.